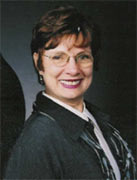 Vivian Lauderdale, MS MBA
Biomedical Regulatory Affairs Certified
Managing Partner
SciBiz Services LLC
1035 Arden Dr.
Encinitas, CA 92024
Tel. 760-436-4858
vivianlauderdale@cox.net
Vivian Lauderdale, MS, MBA, RAC
Biomedical Regulatory Affairs Certified
SciBiz Services LLC, Managing Partner
I have an MS from George Washington Medical School, strong scientific research background, as well as an Executive MBA from UCLA, specializing in entrepreneurial biotechnology projects. I am also certified in Regulatory Affairs for biomedical business. After spending twenty-five years commercializing medical products, I have a deep appreciation for what it takes to become successful, which is a combination of teamwork skills, a fundamentally good project and funding. I have leveraged that experience into putting together the science and business basics to successfully get government grants that fund research and clinical trials of promising biotechnologies. I provide a service of finding grant announcements appropriate for Companies' technologies, keeping a timeline for due dates, and project manage the writing to be in keeping with the mission of the funding agency. I have worked on a number of SBIR grants, as well as exploratory grants and translational research grants from NIH, DOD, NSF, all in biotech projects. I have been successfully funded on the last five grants that I have managed; one NSF grant, three NIH grants, and one DOD grant.
With my research, regulatory and clinical background, I can help with the many layers required for successful grant procurement. I can guarantee that the level of seriousness and professionalism that I put into the project will make it worthwhile and certainly increase your chance of getting funded.
I would be happy to meet with you to discuss your projects and grants. Just give me a call or email me. We can arrange to set up a talk or a meeting soon.
I work with a group of expert consultants who can offer their expertise on an "as needed" basis.
Other biographical information will be available upon request.